Butterfly Arc – House of Butterflies at Montegrotto Terme
Montegrotto Terme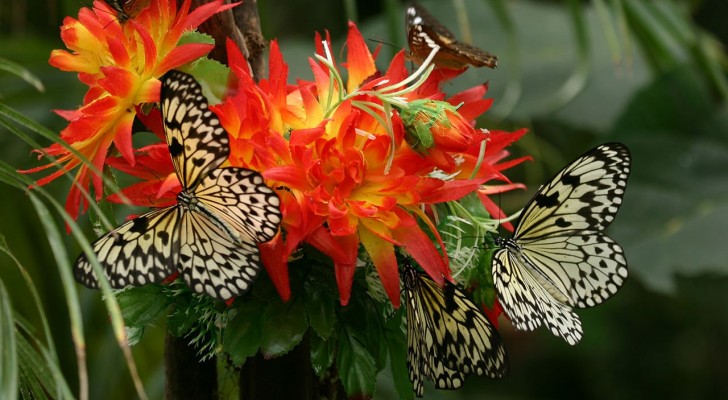 The Butterfly Arc or House of Butterflies hosts multi-coloured living specimens from all continents.
Butterfly Arc at Montegrotto Terme: thousands of tropical butterflies fly freely around this extraordinary place open to all, scientists, students, butterfly lovers and other visitors; walking through the tropical gardens it is possible to observe the life of these splendid creatures, and watch their evolution from egg to adult butterfly, their splendid colours and infinite forms. The complex also includes the Fairy Wood and a large insectarium. An exotic garden populated by huge number of animals like birds, reptiles, fishes, where wonderful butterflies fly around you.
The House of Butterflies at Montegrotto Terme features wonderful exotic gardens where more than 400 among the most beautiful butterflies in the world mate, feed and breed. The tropical butterflies live in three different gardens: the Amazonian (or neo-tropical) garden, the African tropical garden, and the Indo-Australian garden. Here visitors can observe the whole growing process of butterflies: from egg to caterpillar, and from chrysalis to butterfly. It is also possible to look closely at the differences between day-living and nocturnal butterflies, also called moths. Visitors can experience some of the most remarkable examples of aposematic and earth-like mimicry, and see the tricks butterflies use to survive predators¿ attacks such as Batesian, Mullerian and cryptic mimicry. The direct observation this multicoloured place allows represents a great opportunity to watch butterflies' behaviour and also for ethological studies.
Fairy Wood at Montegrotto Terme: Fairies, elfs, gnomes and witches will go with you in the people fairytales, the speaking King of the Trolls, the Giant Moth House and Acquatica, the amazing exhibition on anphibians fishes and co.
Info
Via degli Scavi 21 Bis, Montegrotto Terme (PD)
Tel +39 049 8910189
Fax +39 049 8929777
[email protected]
www.micromegamondo.com